History of Our Club
THE CHATTANOOGA OBSERVED MOTORCYCLE TRIALS CLUB WAS FOUNDED ABOUT 4 YEARS AGO, WITH THE IDEA OF PROMOTING INVOLVEMENT IN LOCAL MOTORCYCLE TRIALS. OVER THE LAST 4 YEARS OUR CLUB HAS GROWN TO WHERE WE ARE TODAY, AN AMA SANCTIONED CLUB. IN 2005 WE HAVE PROMOTED OUR OWN LOCAL 6 EVENT SERIES, PICKED UP A LOCAL CORPORATE SPONSOR, AND HOPEFULLY BROUGHT ATTENTION TO OUR SPORT.



Our Santioning
AMA
STRA



Our Club Officers
DARRELL DAVIS 06 PRESIDENT
RANDY SHARP 06 VICE PRESIDENT
CHARLIE ROBERTS -- SPORTING STEWARD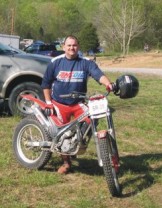 RANDY SHARP 05 TENN NATIONALS.